UPDATE 6/20: The telescope outreach at Tanglewood Park for this evening has been canceled due to impending possible lightening storms. 
UPDATE 6/19: The scheduled observation for Stone mountain has been canceled due to weather conditions. The next one scheduled is for July 25th. Hope to see you then.
This Saturday, June 20th, the Forsyth Astronomical Society will host TWO camp observation events one at Stone Mountain State Park and one at Tanglewood Park. Below are details for each.
From Bruce Gavett, coordinating member for the Tanglewood observation.
On Saturday night June 20 FAS members will be holding, not one, but TWO observations events for campers at local parks.   The first is at Stone Mountain and you will see a separate notice about that event.   If you can't make it to Stone Mountain – how about Tanglewood?
We will be holding our first ever observation night for the campers at Tanglewood in Clemmons.    We'll set up at 8:30PM and the event will start at around 9:30PM (or when it gets dark).   If you have a solar scope and want to come out a bit early (around 7PM) that is okay as well.
If it is cloudy or raining, the event will still be held.   We'll set up under the campground shelter and have a session about telescopes, eyepieces, filters or whatever the campers are interested in.   Although, if there is a chance of a thunderstorm the event will be cancelled.
Tanglewood is off of 158 just south of I-40.  Take the I-40 Harper Road exit and turn south.  Then turn right onto 158 and left into Tanglewood.   After turning into Tanglewood, turn left to the campground and then follow the signs that take you to the RV campground and go straight to the back.  The road will curve to the right and then there is a small parking lot that is next to the shelter.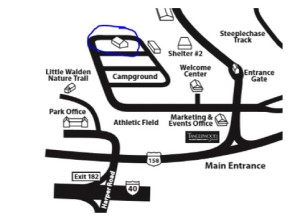 Info for the Stone Mountain observation
 THIS OBSERVATION IS A LOCK -IN EVENT. If you attend as a non camper you will be required to stay the entire length of the event and leave at the same time as the club members as the park gates are locked at 9pm. If you stay as a camper there is a fee for camp areas, reservations through the NC parks website are highly recommended. The event will typically run from a couple hours before sunset for solar observing and run until interest dwindles, usually around midnight-1am. Sunset is 8:43pm for the 20th. Access to the field where the event is held is at camp site #36. No astronomy equipment is required to participate just a sense of exploration and curiosity. You may want to wear a lite jacket as the weather can be cooler in the higher altitudes, even at this time of year. Some type of mosquito repellent is highly recommended as well.
Please follow the club's Facebook page and/or website for a final weather call on Friday for these events.