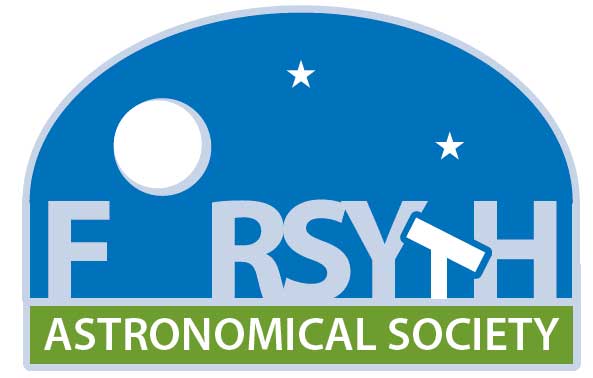 The FAS has a hectic April in store for all of our friends and followers. We have four public observations scheduled at different venues, Kaleideum North (Sciworks), Yadkin County Park, Pilot Mountain State Park and Stone Mountain State Park. Most are being held in conjunction with the NC Science Festival and their Statewide Star Party events. As per usual these events are weather dependent each event in this post and the club's Facebook page will be updated with a final weather call by 5pm the day before the event.
UPDATE: 4/7/17
We are a GO 

for tomorrow's observation at Kaleideum North. 
Conditions should be clear with temps in the high 50's to low 60's. Dress accordingly.
Our first public event will be held on April 8th at the Kaleideum North (formerlySciworks). This is our home base of operations. We hold our monthly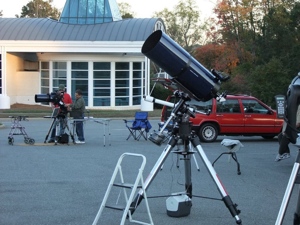 meetings here and it's our most used site for urban public observations. The sun will be setting around 8pm this day. We'll start observing as darkness falls and targets become available in the waning twilight. Objects we hope to show will include the Moon, several star clusters or varying types, binary stars, the Great Orion Nebula and Jupiter (later in the evening), and possibly even a galaxy, though faintly, through some of the larger member scopes. We will remain set up until around 10-11pm depending on conditions and public interest.
Update 4/20: The FAS observation at Yadkinville Park on April 21st has been
CANCELLED

 due to adverse weather conditions.

Our next event will be held on April 21st at the Yadkin County Park located behind the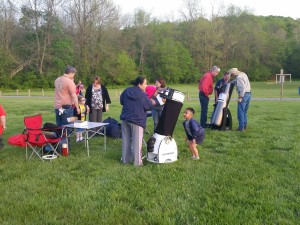 Yadkinville YMCA. We will be set up on the lower soccer field. Click the attached photo to the left to be taken to Google Maps for navigation directions. Sunset is around 8pm for this event as well and as with our earlier event this month we'll observe similar targets as they become available as it gets dark. Albeit targets should be better due to the moon setting earlier that day. When conditions cooperate observing is great.
Update 4/20: The FAS observation at Pilot Mountain State Park on April 21st has been
CANCELLED

due to adverse weather conditions.

We will have another observation on April 22nd at Pilot Mountain State Park in the upper
parking area. This is our premier public dark sky observing site. It really doesn't get better for astronomical observing in the piedmont than atop Pilot Mountain. When the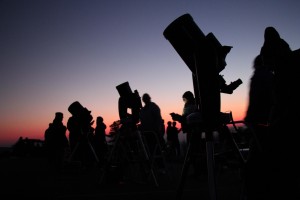 conditions are right it rivals some locations on the Blue Ridge. As with our previous observations, we will begin observing as darkness falls and targets are available. The observation will conclude at 10:30pm. Atop the mountain the temperature can be as much as 10 degrees cooler than the surrounding area. Please keep in mind that when planning attire for coming out, especially concerning little ones.
Update 4/28: The Stone Mountain observation has been

CANCELLED

 as well. We just can't seem to catch a break with the weather. Our next scheduled public even is on June 27 at Stone Mountain again. Stay tuned to our website or Facebook page for more info as the date draws near.
Our last observing event for the month will be at Stone Mountain State Park on April 28th. This observation will kick off our 2017 observations for campers at the park. This is an excellent venue probably second to Pilot but still very good.  As with all of our observation at the site, THIS IS A LOCK-IN EVENT. If you attend as a non camper you will be required to stay the entire length of the observation and leave as the club members leave. The park gate will be locked at 8pm. We typically stay set up until
between 10:30-11 pm depending on conditions and interest. For a map marking the observation site in the family camping area click the image to the left. Access to the site can be gained between campsites 35 and 36. Please be respectful of others camp setups. As with Pilot this location can be cooler than you expect. Plan your attire accordingly.
If you attend any one of these events you will see similar night sky objects at each but if you attend multiple events you will definitely get a feel for how viewing conditions can change dramatically with light pollution, particulate pollution, elevation, weather conditions and how each effect astronomical observing. We hope you have opportunity to attend all venues.  If any of these events are not in your area or you're interested in finding other STEM related activities held in conjunction with the NC Science Festival, click the graphic below to be taken to the NC Science Festival events page to find an event near you.