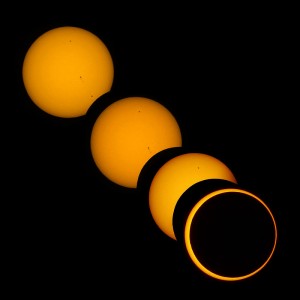 Just in case you've missed it on the multitude of news and social media outlets, there will be a total solar eclipse happening on Monday August 21st. Due to it's path, slightly south of Salem,OR to just north of Charleston,SC, the entire United States will be able view this eclipse in some degree depending on each location's distance from the center of totality. If you are not along the path of totality you will experience a partial solar eclipse; which will be the case locally for Winston-Salem. Here we will have 95% coverage of the sun. This means AT NO TIME is it safe to look at the eclipse directly without a proper filtering device. The moon will make "first contact", when the moon's disk and the sun's disk first touch, with the sun at around 1:13 pm that day and will proceed to block the sun until it's maximum coverage at around 2:41 pm. The moon will then recede from the sun's disk until "fourth contact", when the moon and sun's disks are at last contact, at around 4:03 pm. Yes, we skip second and third contact due to our locale only having a partial eclipse. Second and third contact are references to when the moon enters total blockage of the solar disk and when it is soon to start to reveal the sun. You can get the exact time for eclipse specifics for your location via this interactive map. Zoom in and click your approximate location for details specific to your locale. Times are in Universal Time which can easily be converted via a web based time converter you can find using your favorite internet search engine, just remember to use Eastern Daylight Time instead of Eastern Standard.
To celebrate this momentous event, we have a few public outreach and education opportunities coming up to get you prepared and enjoy the event the day of.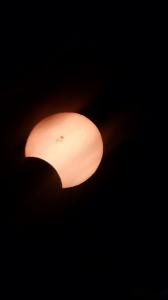 First, on Wednesday August 16th at 6:30 pm, we will host an educational presentation at the Reynolda Manor Branch Library Auditorium, located at 2839 Fairlawn Drive, Winston-Salem, NC. This presentation is a recap of the program from last month's club meeting given by club VP Roy Doron, associate professor of history at Winston-Salem State University, and club librarian Bruce Mellin, retired lecturer of Astronomy and Earth Sciences at Northeastern University and Cambridge College. The presentation looks at some of the most historically significant eclipses and at the evolution of human understanding of this exciting astronomical phenomena. We will discuss the different perceptions of eclipses and what they've meant, and continue to mean, for societies around the world. After Mr. Doron's portion of the presentation, club librarian Bruce Mellin will do a short informational session on proper safe solar observing techniques. Concluding the presentation portion, there will be a Q&A session where attendees can win one of a limited number of solar eclipse viewing glasses for correct answers being given, or exceptionally thoughtful questions presented to our hosts. I will post, here, a link to the Winston-Salem Libraries website as soon as it is available.
A similar program was hosted at the Elkin Public Library last week. You can read an article on how it was received at the Elkin Tribune website.
Mr. Doron has also been interviewed by local news personality Briana Conner from local affiliate WXII. You can view that segment here.
Edit 8/11:
Here is the link to the Forsyth Library website about the eclipse program.
Now, What's happening the day of the eclipse? We will be hosting/co-hosting two separate events in Winston-Salem on that day.
One event will be hosted on the Winston-Salem State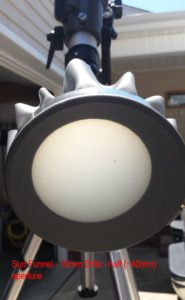 University campus near the clock tower. We will have solar-safe telescopes and other indirect viewing apparatuses on site for you to see the stages of the partial eclipse. We will be distributing a limited number of solar eclipse viewing glasses on a first come first serve basis to those that need them. There are a limited number available. IF we run out, we ask that you please share with others that they may enjoy the event as well. This is not a quickly happening event, and glasses can easily be shared amongst a group. I will update this post for the specifics for time and other pertinent details as they become final. There will also be a final weather call the day before for this location.
Our second event will be held at our home base, Kaleideum North, formerly Sci-Works from 11 am until 4 pm, though we won't be set up for viewing until closer to the first contact time. Again, we will have solar-safe scopes and other viewing apparatuses  available for your use so you can enjoy the stages of the eclipse. We will also have solar eclipse glasses for distribution, first come first serve, at this location too and again we ask that you share with others in the event that we run out. You can find details about other Kaleideum related happenings that day HERE. They have some fun activities planned for kids and a workshop to make your own solar viewing device. Check out that link for details. The Kaleideum related activities are rain/cloud or shine. In the event of inclement conditions, the solar viewing outreach portion may be canceled but Kaleideum will then make a arrangements to stream the NASA feed of the eclipse. Follow this post or the club's Facebook page for updates as the event draws near.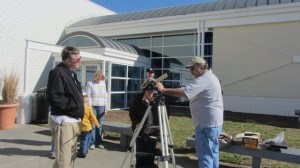 Facebook events will be created for each of these separate events, for easy sharing on social media.