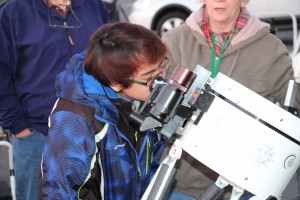 Sorry for the last-minute notification FAS folks and fans but there is a scheduled public observation at Kaleideum North, formerly Sciworks, this Saturday June 3rd. The weather is looking pretty good and it has been posted and promoted on the Kaleideum calendar, so we are a GO!
Sunset is at around 8:30 PM and the observing will begin as darkness permits. Items of interest that we can show you will include the Moon, Jupiter, several types of stars including binaries, various star clusters and possibly even some galaxies, though they will be faint, in some of the larger scopes available. Saturn may even be high enough in the sky to catch towards the end of the evening. The weather is going to be fairly mild so no heavy coats needed. We might would suggest insect repellant though.
Again I apologize for the short notice, this event slipped through the cracks of getting posted to the calendar.
We hope to see you there.